November for our family is a giving month. I would like to promote these giving ideas.
Click here to help
feed the world
. What happens at this website, you have a chance to click the click here to give free food button. Then 100% of the sponsor money goes to charity. How do they do this? Well, the site also promotes some sales of items that they are hoping you will stop by and purchase. However, the beginning for all of us can be click and someone will be getting some food.
The next giving idea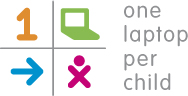 This one I particularly like. You can read about how this
works in detail
. Basically, I am going to purchase a laptop and when I do, a laptop will also be purchased and given to a student in a designated country. I will have a laptop that my students can use and I will feel good about providing for another.
The final idea, not as magnanimous however, it is important to our community. Take part in this online survey as a student, parent or teacher. This survey gives our community a voice and some very good data which will go a long way to improving how we use technology in our district. Thanks for giving back.
Blogged with Flock